Toolbox
Urban Art Gallery
URBAN ART GALLERY | MOBILER GUIDE FÜR STRASSENKUNST
IDEE
Streetart ist eine längst verbreitete Subkultur die spontan, temporär und vergänglich ist. Sie braucht ein entsprechend mobiles und flexibles Medium: Das Smartphone. In Kombination eröffnet sich ein neuer musealer Raum, der von einer Community bestehend aus Liebhabern, Erschaffern und Interessierten kuratiert wird. Ziel des Service-App-Netzwerkes «Urban Art Gallery » ist es einen Dialog über urbane Kunst zu eröffnen und seinen Mitgliedern das Finden, Teilen und den Diskurs nicht nur virtuell, sondern mit direktem Bezug im physischen Raum zu ermöglichen. Die Vision ist Street Art zu einer anerkannten, ernstzunehmenden Kunstsparte zu verhelfen, durch das Netzwerk Stile weiterzuentwickeln, langfristig das Niveau von Werken zu steigern und so durch steigende Qualität nachhaltig für mehr Akzeptanz zu sorgen.
KONTEXT
«Re-Imagining – The Future of Interaction» war Thema des dritten Semester des Masters Interaction Design der Hochschule Magdeburg-Stendal unter der Leitung von Prof. Steffi Hußlein im Wintersemester 2012/2013. Im Fokus stand die Gestaltung und Konzeption eines mobilen Services, der erst durch die zunehmende Verbreitung und Anwendung sozialer Netzwerke denkbar ist. Die Studierenden widmeten sich zunächst dem Thema Social World Wide Web und dessen Einfluss auf unser gesellschaftliches Verhalten im Netz und darüber hinaus. Bestehende und mögliche Themenfelder wurden zusammengetragen. Jeder einzelne analysierte eine konkrete Plattform mit Hilfe der vom Fraunhofer Institut entwickelten Web-SCORE -Methode, die der strukturierten Analyse und Evaluierung von Webseiten dient. Die daraus resultierende Erkenntnisse wurde dazu genutzt, Rückschlüsse auf den Fluß von Informationen und den strukturellen Aufbau einer neu entstehenden Plattform zu ziehen.
ZIEL & ERGEBNIS
Ziel war es das Konzept einer neuartigen sozialen Serviceapp zu entwickeln, diese Anwendung strukturell und visuell zu entwickeln und in Form eines Mock-Up, Prototypen oder Videoszenarios zu evaluieren bzw. darzustellen.
Zur Entwicklung der Urban Art Gallery dienten nach einer fundierten Recherche diverse Methoden, wie die Erstellung einer Sitemap mit Hilfe von Cardsorting, die Entwicklung eines Style-Guides durch Trenduntersuchung in der entsprechenden Subkultur, sowie Wireframing für die Definition von Navigationsstruktur und Gestenbedienung. Das Ergebnis wurde in einem Videoprototypen visualisiert, der zum einen den Service in den entsprechenden Kontext setzt, zum anderen den Funktionsumfang und das Navigationskonzept erläutert.
Funktionsumfang
Eigenes Profil erstellen und Profile anderer entdecken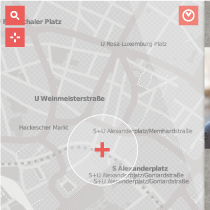 Profilebene und Karte sind auf der gleichen Hirarchiebene und sind schnell zu erreichen
Street Art in der Umgebung finden und kuratierte Routen ablaufen
Neue Street Art im AR-Modus hinzufügen
Werke bewerten und kommentieren
Navigationskonzept
Lorem ipsum